Drama Quarterly: Baring her Soul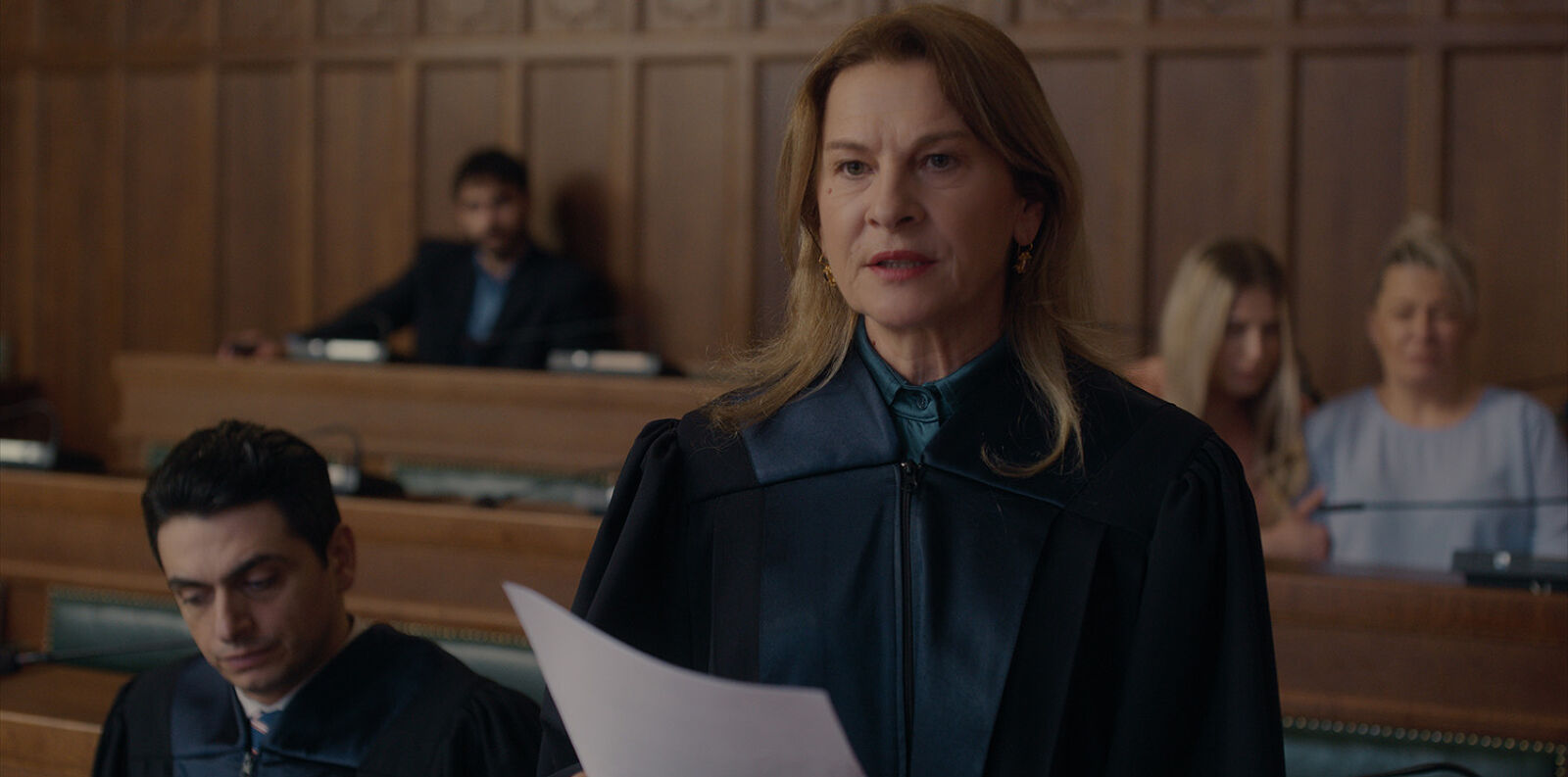 Bosnian filmmaker Jasmila Žbanić opens up about creating her first television series, legal drama Znam Kako Dišeš (I Know Your Soul), becoming a showrunner and the differences between big- and small-screen directing.
The last time Jasmila Žbanić attended the Venice Film Festival, she was there to present her much-acclaimed feature film Quo vadis, Aida?. Written and directed by Žbanić, the 2020 movie dramatises events surrounding the Srebrenica massacre during the Bosnian War.
The film went on to garner Bafta and Academy Award nominations, and Žbanić picked up several directing prizes on the festival circuit.
Now, three years later, the Bosnian filmmaker is back in Venice – only this time it's in her role as showrunner of her first television series, Znam Kako Dišeš (I Know Your Soul).
The drama, which has its world premiere on September 6, stars Jasna Đuričić as Nevena Murtezic, a prosecutor juggling the demands of her job with her ongoing divorce and being a single mother to teenager Dino (Lazar Gragojević). When a young boy commits suicide, it triggers an avalanche of events at work and at home, with Nevena finding it increasingly difficult to balance her responsibilities to Dino and a job that is under constant public and political pressure.
The six-part Bosnian series is produced by Deblokada and BH Content Lab for BH Telecom. Beta Film is handling international distribution.
"We did the TV series for the local streamer and they would have been completely happy if we just finished it and premiered it here [in Bosnia]," Žbanić tells DQ. "But we believed in the story so much. We are telling a local story, but it is universal and we really tried to do it in a very filmic way. We spent a lot of time considering each shot and doing a lot of rehearsals with the actors, so it was something we really wanted to do well.
"Then when we sent it to Venice and [festival artistic director] Alberto Barbera said how much he loved it, we were really in heaven. It's huge honour for us."
First conceived several years ago, I Know Your Soul was sparked by a real suicide case and evolved to include elements from Žbanić's own relationship with her daughter, after the director realised that perhaps she didn't know her daughter as well as she thought.
"I am very close to her. We talk a lot. I feel I know everything about her life, all her friends, everything," she says. "But you just have this illusion that you know your child.
"When there was a case of suicide in Sarajevo, which inspired me to research the whole story, we found out the boy who committed suicide was probably sexually abused and his parents didn't know about it. I started wondering, 'Do I know what's going on with my child?' I talked to her, saying, 'If anything happens, please tell me. It's not embarrassing, you can tell me everything. We can solve all our problems together.' She said, 'I would never tell you if something like this happened.' I was shocked.
"That was the spark for me to think what we really know about our kids. It's also a story of our society, where we think we know who the bad guys are, and we have formed opinions and judgements on them, but actually we don't know what is going on. Suddenly the story offered a lot of different perspectives, and that was my initial spark to write it."
Those first ideas informed a feature script. But when this was rejected by a local film fund, an open call for series pitches from BH Telecom during the Covid-19 pandemic led Žbanić to restructure the project as a six-part series.
"I realised I could go deeper into the relationship of parents and kids and explore different cases," she says. "I wanted to talk through the crime about something more personal, which is the relationship between parents and kids. That's the topic of all six episodes. There are other cases where parents think they know who their kids are and then actually they really don't know what's going on. It's been a long process."
The show's theme of motherhood and parental relationships is a common one in Žbanić's work, though that hasn't always been her intention when starting out with a new story.
"My first film, Grbavica, is about a mother who was raped and has a child, and then she hides the truth and the kid finds out what happened," she says. "Can you love a kid who was the product of hate? Each film talks about what it means to be a mother and a parent, and that's similar to the TV show. But it's unconscious because [here] I started with suicide and ended up with this topic.
"It's not that I sit down and say, 'Here's another story about parenthood.' On the contrary, it comes back. It's a topic that is not explored enough, or we lean on certain clichés about motherhood or parenthood. It's very often presented as a troubled relationship. But there are many layers that mean it is still unexplored territory."
During the first two episodes, which are being screened out of competition in Venice, Nevena takes over the investigation into the young boy's death. But after it emerges that he went to the same school as Dino – and Dino is named by the victim's father as one of his son's abusers – Nevena finds her loyalties to her son clash with the responsibilities of her job.
"She wants to protect him but also she needs facts," Žbanić says. "She needs to be sure he didn't do it, unlike his father who 100% believes him – but only by default because it's his son. She is not taking that traditional familial line. It's much more complicated than that. But that doesn't make her a bad mother, exactly the opposite. She wants her son to be fair to other people. She wants to raise him as a responsible man but he's refusing to take responsibility."
Once the decision was made to turn I Know Your Soul into a TV series, Žbanić teamed up with longtime producing partner Damir Ibrahimović, co-writer Elma Tataragić and directors Alen Drljevic and Nermin Hamzagic to develop the series before she and Tataragić penned the scripts. Ibrahimović's previous experience as a police inspector proved invaluable to ensuring the story was authentic and organic, while further support came in the shape of local police and legal advisors who would check every detail in the series.
Behind the scenes, I Know Your Soul also reunites Žbanić with Đuričić, who played the lead in Quo vadis, Ada?. The showrunner says she never thinks of actors when writing her scripts, but when it came to casting, Đuričić quickly came to the front of her mind.
"We have a fantastic relationship with her and she gives everything to the role," says Žbanić. "There is such a huge trust between us, she could really go to the edge of every emotion without fear of being hurt, and she's very easy to work with. She always adds a lot during rehearsals and she had all the sensibilities and instincts that were always right."
Finding the young actor to play Dino was more of a challenge, with Žbanić conscious that the authenticity of the show rests on the relationship between the mother and son at the heart of the story. She began looking at non-professional actors for the role, but no one was able to balance the loveable but wild-child nature of the character.
"He's a bad guy, a very bad child, who doesn't behave and takes drugs and is always lying. But on the other hand, we wanted people to love him and really feel his charm is seducing them," Žbanić says. She then found Dragojević in Montenegro, and the actor turned out to be perfect for the role, not least because he is also an extremely accomplished singer and musician – skills that were utilised in the music videos Dino creates in the series.
"That was really a stroke of luck," Žbanić notes. "When we put Jasna and Lazar together, we were like, 'If we don't have these two, we don't have a show. If this relationship doesn't function, we don't have a show.' This was the biggest thing to do."
I Know Your Soul isn't the first TV series Žbanić has worked on during her career, which took off with 2006 feature Grbavica. She recently directed episode six of HBO's post-apocalyptic drama The Last of Us, and describes episodic TV as a "completely different world" from the one she knew as a filmmaker.
That difference was heightened on I Know Your Soul, where she handed over directing duties to adopt the role of showrunner and oversee the series. But it was a position she found more taxing and pressurised than she had ever imagined.
"I thought I could show up from time to time, because I have other projects," she explains. "But I realised that, because I was so close to the story – I wrote this story a long time ago – I had to be there every day, as I wanted to be sure all the details were right.
"As a showrunner, I thought I would not be there all the time, but in the end I was there every day of the shoot. I would never do it again. This dynamic is not for me."
In particular, she found herself having to suppress her directing instincts for fear of overtaking the work of directors.
"Because I'm a director in my essence, I always wanted to jump in and interfere and say stuff, which I shouldn't do because the directors are there. It wasn't easy," she admits. "Maybe for showrunners who are not directors first, it's not a big deal for them because it's normal; but for me, it was very tempting [to step in]. That's why I think showrunning is not such a natural position for me. I learned a lot, it was a great experience. The directors were great. We're still friends and everything is fine, but my inner pressure was too heavy to hold on to. I had to keep my directing beast in a cage all the time."
That doesn't mean she won't do more small-screen work, however, with new projects for both film and TV in the pipeline. For now, Žbanić is left to reflect on the differing roles directors have in both mediums – one where the director is "God" and another where they are part of a wider creative team.
"The Last of Us was the first time I was a part of this big system, where you have to work towards somebody else's vision," she says. "When I'm writing the script, it's in my head and heart and then I just have to direct what's already there. In this case, I had to understand what was in the brain and heart of somebody else and also give something of me in it.
"That was a very interesting experience. When everything that film directors believe is directing – choosing your actors, choosing your set, costumes, deciding the shots and everything – is already decided, what is the essence of directing? Actually, it's great because there are still a lot of things you direct. There is an energy, a perspective and emotions you can still put in, even if everything else is already determined. That is the art of directing."